Integrative Biology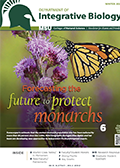 2022 Integrative Biology Newsletter
We're highlighting a sampling of interesting IBIO research that ranges from protecting monarchs, integrating prairie strips with farmland to preserve biodiversity and crop yields, and antibiotic resistance of bacteria in soils to evolutionary and health insights provided by electric fish, Rio pearlfish and squid. Read more about these projects and the researchers as well as notable grants, awards and updates on newly established endowments for the Kellogg Biological Station.
Watch our video below on forecasting the future to protect monarchs: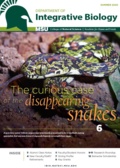 2020 Integrative Biology Newsletter
What happens when traditional research methods fail to accurately detect the loss of biodiversity as well as its consequences? If you're NatSci integrative biologist Elise Zipkin, you lead a revolutionary study on the disappearing snakes of El Cope, Panama, that lands on the cover of Science. Check out our feature on Dr. Zipkin and her research, read a giving profile on animal behavior pioneer Jack King, and learn more about our newest faculty and staff members and other department activities in our 2020 newsletter.